Ambulance and hospital staff to raise funds for Aoife's Sensory Bus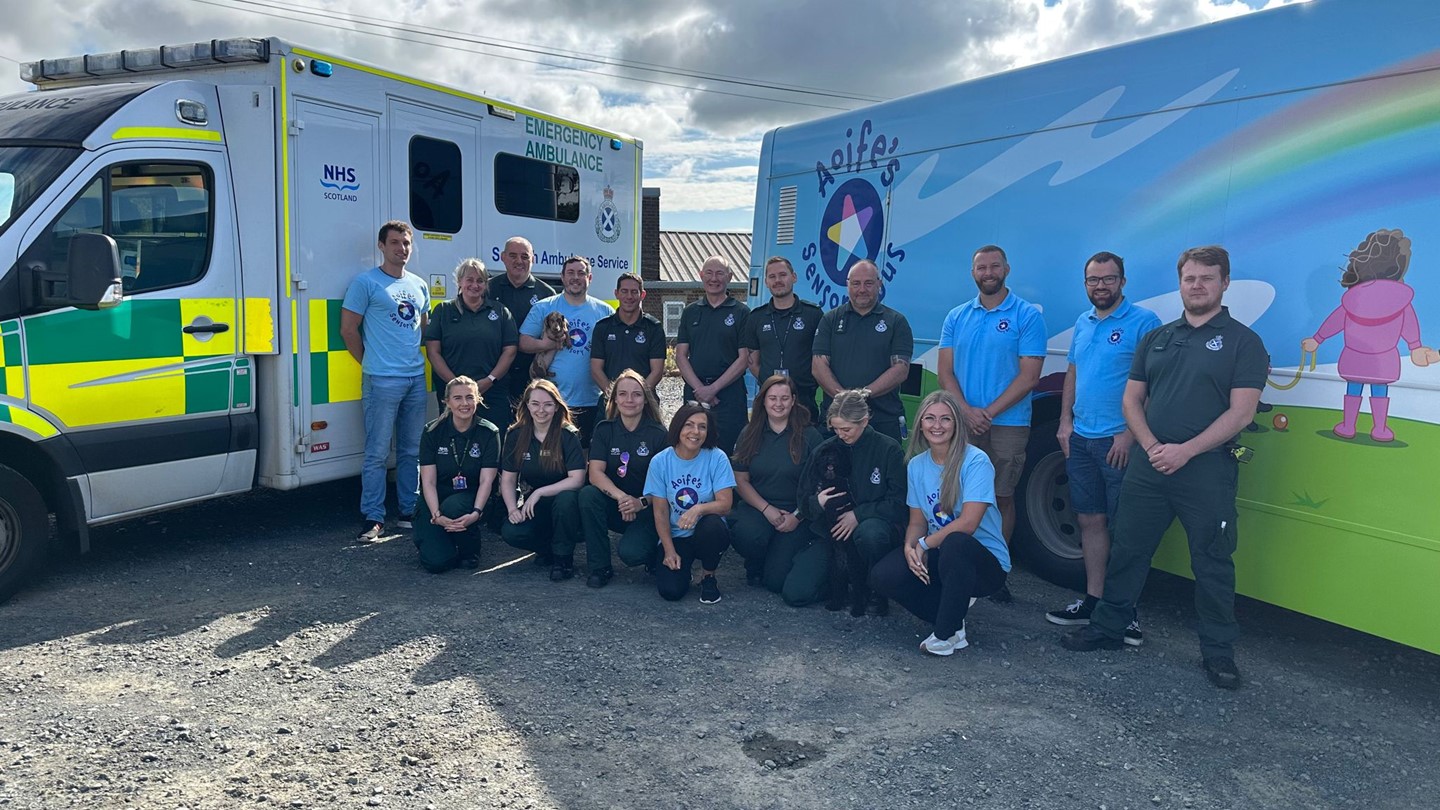 More than 50 ambulance service and hospital staff will take part in a 96 mile walk to raise funds for Aoife's Sensory Bus.
The bus is named in memory of Aoife Kidd who was diagnosed with a brain tumour when she was 16 months old.
She underwent several surgeries, 18 months of chemotherapy, along with radiotherapy, and was part of a clinical trial at London's Great Ormond Street Hospital. She passed away in 2019, aged six, after her brave fight.
Dad Michael, a Paramedic at Kilmarnock Ambulance Station, has been leading on fundraising for several years and on August 5 a 50 plus strong group will take part in the 'West Highland Way in a Day Challenge', walking from Milngavie to Fort William.
Michael said: "Aoife is our inspiration and behind everything we have achieved so far. By creating Aoife's Sensory Bus, I hope that some good can come from something that has been so devastating.
"I hope that everyone who has both helped organise and are taking part in the walk do not underestimate how much I appreciate them taking on this challenge to help raise funds and awareness for the bus. There are a lot of very good causes, especially in Ayrshire, so when this amount of people get involved to help raise funds for us, it really does mean a lot. I am very grateful to everyone involved.
"I think every station in Ayrshire along with control room staff have all contributed towards raising funds for the bus by taking on various individual and team challenges. We have the staff from Crosshouse A and E Department getting involved as well this time which is great."
He said the response from people has been fantastic with Arnold Clark donating three minibuses to help transport teams to their starting and collection points.
The group has been split into five teams who will do the five stages in a relay style event with minibuses dropping off/collecting each team once completed. They will then all meet at Fort William to cross the finish line as one team.
Initially, the family, with great support from the public and local businesses, raised money for a sensory and interactive learning environment for all of the pupils to use at Monkton Primary School. This was opened in August 2019.
The next stage has been raising money for Aoife's Sensory Bus, a mobile vehicle which has fitted with an interactive sensory environment and is being utilised by children and young people in schools and communities in Ayrshire. It was launched in September 2020.
Michael said it costs £60,000 each year to keep bus on the road which has been donated by Stagecoach and can travel around schools and communities in Ayrshire for young people with additional support and complex needs.
Michael added: "My wife Evelyn and I had noticed throughout our time attending hospitals with Aoife the enormous positive impact that sensory and interactive spaces had on her and other children's wellbeing. We are passionate that the purpose of the bus is multi-use to target young people across Ayrshire who require a sensory integrated approach to improve their wellbeing and assist their educational targets in a creative and meaningful way.
"We appreciate the cost of a sensory room is extensive and feel that our bus is a fantastic method of providing such means to young people. Aoife is our inspiration and behind everything we have achieved so far."
All the money raised will go towards the bus's operations, such as visiting and maintenance costs.
To donate visit: Michael Kidd is fundraising for Aoife's Sensory Bus (justgiving.com)