Scottish Ambulance Service staff members awarded Brave@Heart Awards for extraordinary acts of bravery.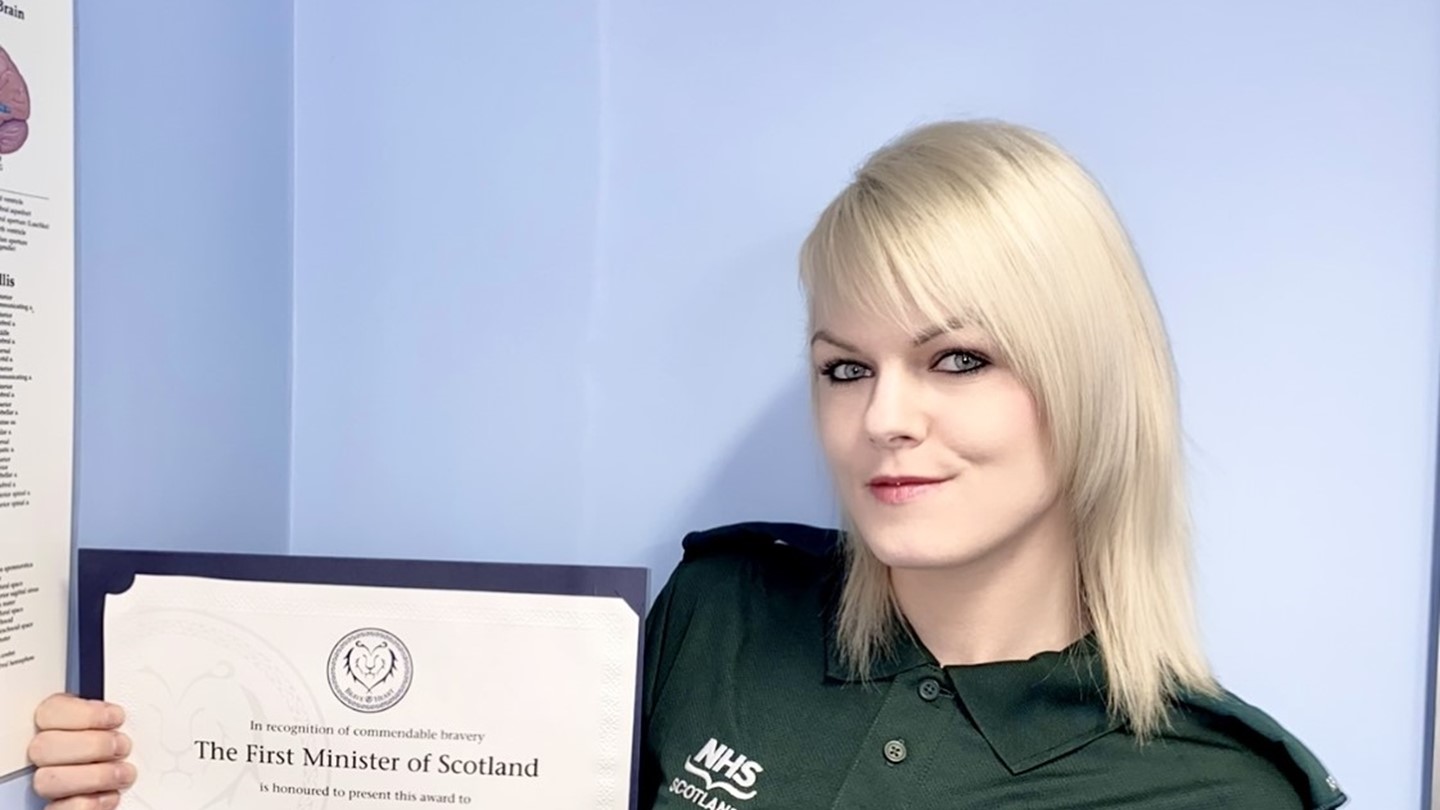 Five Scottish Ambulance Service staff members have been awarded for extraordinary acts of bravery.
The Brave@Heart Awards celebrate acts of bravery in exceptional circumstances by blue-light services, voluntary rescue organisations and members of the public. Last year's winners for the Service were Scott Diamond, Willie Anderson, Caron Robertson, Amanda McClorey, and Neil Spiers. The staff were nominated by their colleagues and demonstrated bravery during their shift or outside their work hours.
Caron, originally from Prestwick, and Amanda, both of Stranraer Station, were rewarded for helping a patient who injured herself after falling on a rock at a beach. With no mobile signal, the patient's son went to a nearby farmhouse to call for an ambulance. Caron, Technician, and Amanda, Paramedic, arrived on the scene.
Their award submission said: "They took control of the situation calmly with retrieval of the patient required over a steep cliff face. Both clambered down the cliff and helped get the patient up. The patient was transported by the RNLI to Port Patrick and then by Caron and Amanda to hospital." 
Willie, Technician, and Scott, Clinical Training Officer, were rewarded after they attended an explosion after initially getting called out to another incident while working at Glasgow West Station station.
Whilst on scene at the first incident, they were approached by a member of the public stating there had been an explosion in a nearby takeaway shop.
They ran in and got the staff out of the takeaway shop, then there was a secondary explosion that started a fire. The pair then forced their way in and got more than 20 people out as the building started to fill with smoke.
Neil, of Pencaitland, East Lothian, an MPDS Auditor, arrived early ahead of his shift to take some photographs of yachts and soon became aware of a woman shouting for help. She had fallen in to the freezing water and managed to crawl ashore. Neil, who was a call handler at the time, acted quickly, calling for assistance and gave her his jacket to keep her warm until help arrived. 
His award submission said: "Once the ambulance crew arrived, he returned to his shift for the day. During his shift, he received a call from a member of public who had found a male in the water.  Neil gave clear CPR instructions to the bystanders until the ambulance crew arrived on this site as well. The patient was transported to hospital."
Scottish Ambulance Service Chief Executive Pauline Howie said: "The actions of these staff are truly commendable and they each showed extraordinary bravery. All our staff do amazing, life-saving work each day and this is a small sample. The staff are all wonderful ambassadors for the Scottish Ambulance Service and fully deserving of their awards."