SAS staff teach CPR to 250 school pupils in Hawick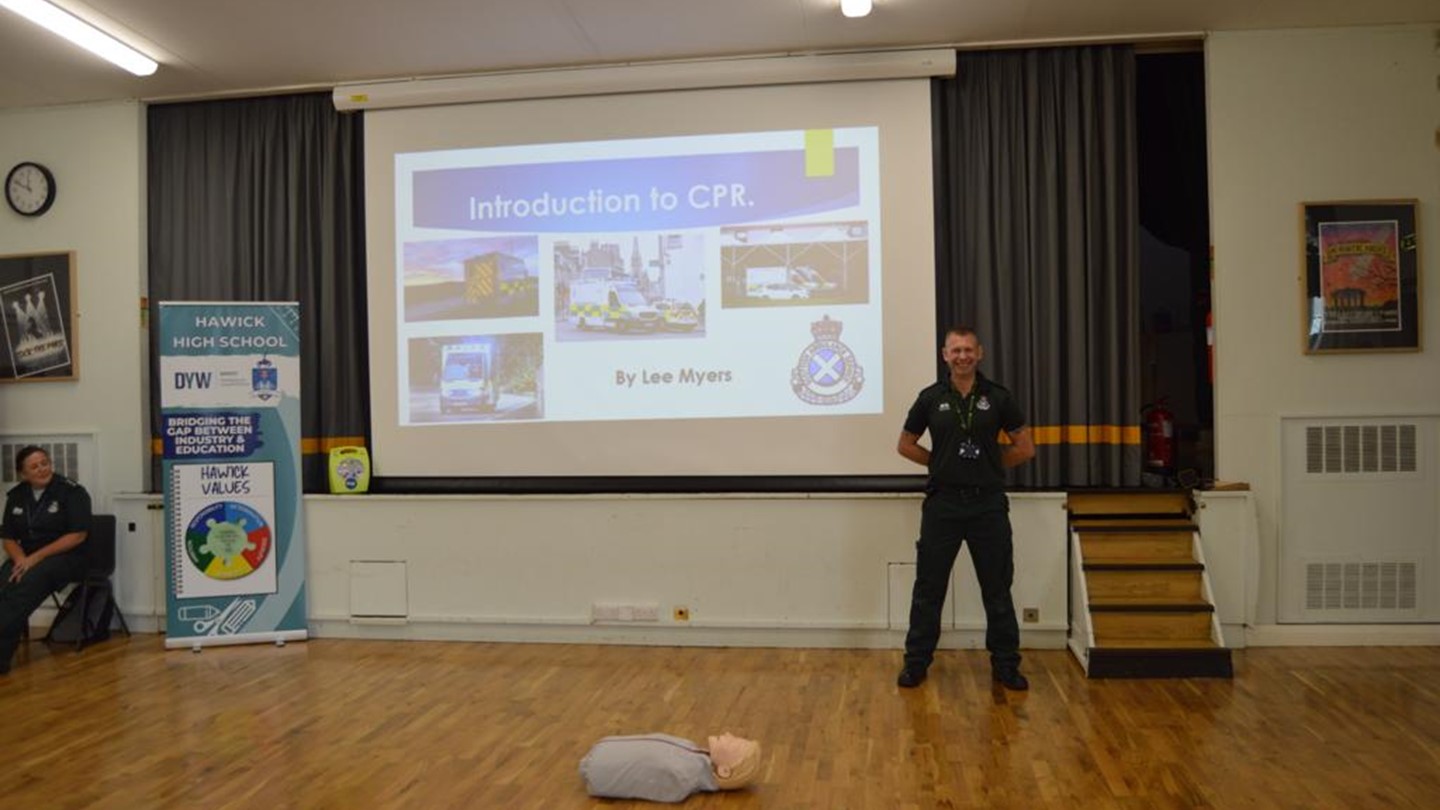 Staff from the Scottish Ambulance Service have delivered cardiopulmonary resuscitation (CPR) training to more than 250 students at Hawick High School.
Melrose Paramedic, Lee Myers, Alan Watt and colleagues from Hawick, Melrose and Peebles Ambulance Stations carried out the training, which also included lessons on how to use a community defibrillator.
The training, which was held earlier this month, was organised by Stacey Grieve, Developing the Young Workforce (DYW), and Caroline Clarke, Skills Development Scotland (SDS) Careers Advisor.
Every year, around 3000 people in Scotland experience an out of hospital cardiac arrest. CPR is a lifesaving medical procedure which is given to someone who has stopped breathing and is now in cardiac arrest. This technique helps to pump blood around the body when their heart is no longer able to.
Paramedic Lee said: "On average only 1 in 10 people survive a cardiac arrest. Every minute of delay in bystander action reduces likelihood of survival by 10%".
"It has become essential that we train as many people as possible in this skill as early CPR and defibrillation gives people the best chance of survival".
"This is the first training of its kind to be delivered in the Borders to school pupils and we were delighted to have been able to do this at Hawick High School. This is a skill that will last a lifetime and now students from Hawick High School have the confidence, skills and knowledge to intervene when required to potentially save a life."
"I would like to thank Stacey, Caroline, and all the school staff who have worked incredibly hard to ensure the success of this event. I would also like to thank all the students who took part in the training during an incredible two days at Hawick High School. Well done all."
Vicky Porteous, Head Teacher, said: "The CPR event held at Hawick High School was a resounding success and a reflection of the outstanding partnership working between the school and its DYW partners and the wider community. This unique event saw over 250 young people trained in CPR. The engagement of our young people was excellent and they came away with vitally important skills that could potentially save lives in the future. Many thanks to Stacey and the Scottish Ambulance Service for organising and running this superb event."
Stacey Grieve, DYW Coordinator, said: "The course was very well received from the pupils, staff, parents, and carers of Hawick High School. Not only did the pupils learn a crucial life skill but they also had the opportunity to hear first-hand the routes into the Scottish Ambulance Service and the career journeys of those in the Service who attended. A huge thank you to all the volunteers from SAS who came along on these days to train our pupils. We look forward to running this again with our S1 – S3 cohort"