Family donates £1,834 to SAS after care provided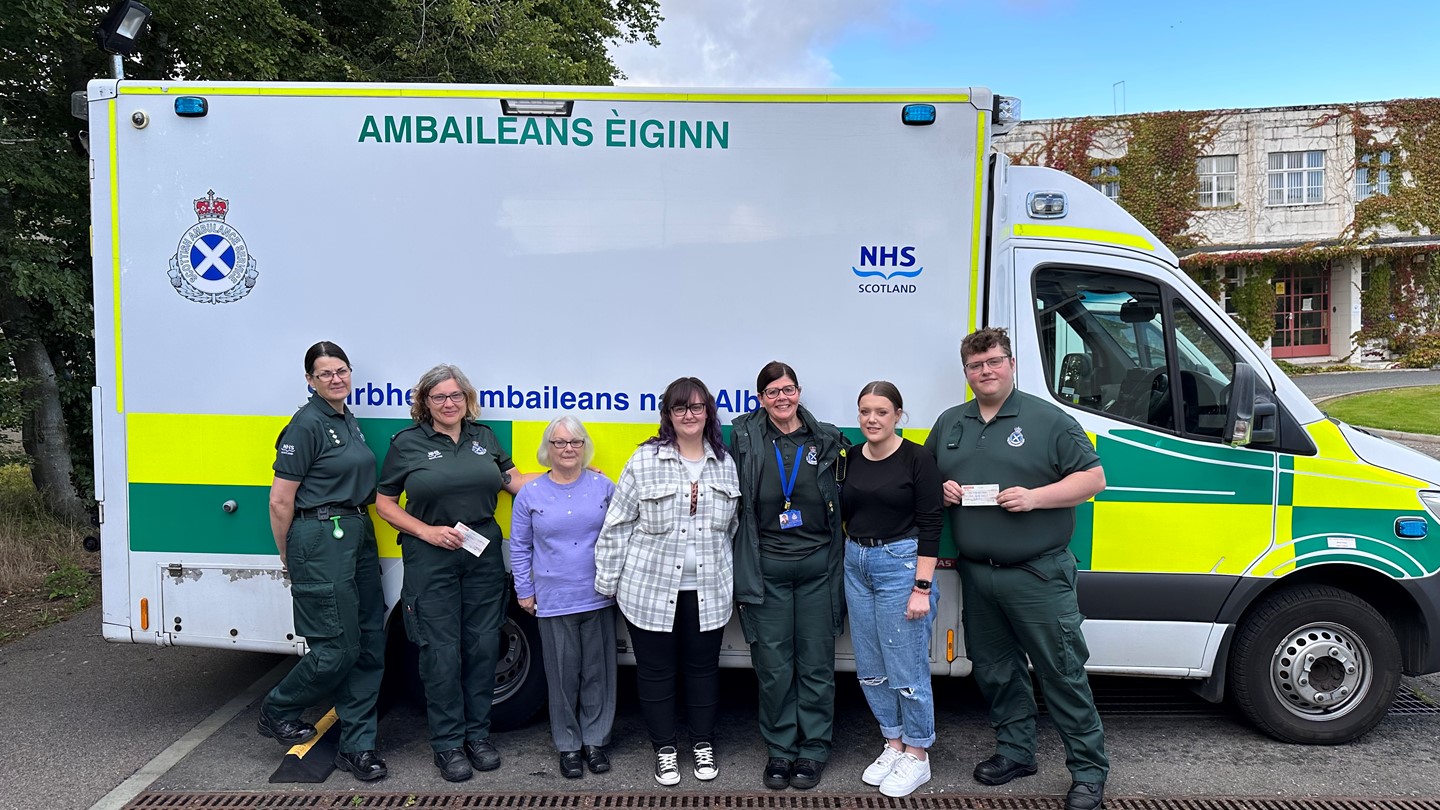 Two siblings have donated £1,834 to Huntly and Inverurie Ambulance Stations for the care given to their mum and dad.
Gayle Beaton and her sister Lindsey visited Inverurie Station recently to present staff with the cheque, which will be divided equally between the two stations.
Gayle, of Huntly, said she wanted to thank staff for their efforts in attending to her mum, Sandra Beaton, who sadly passed away after suffering a cardiac arrest on June 30.
Two ambulance crews attended; an ambulance from Huntly was staffed by Paramedics Lewis Moggach, another staff member, and first Year RGU paramedic Student, Ross McKendrick and an Inverurie crew was staffed by Technician Helen Simpson, Paramedic David McLeod and First Year RGU paramedic Student, Yvette Lawrence.
Governance manager for the Clinical Directorate Alison Moggach also attended.
Gayle said the family wanted to thank the staff for giving her mum "every possible chance of surviving", with the money raised at the mum's funeral.
Gayle said: "We chose to donate to SAS after they responded to call out to my mum at the end of June following her suffering a cardiac arrest. Unfortunately, she did not survive.
However, my sister and I could not fault what they did for mum that night and the way the community came together to help us.
"It was a community effort with the local fire station and other off duty emergency service workers also in attendance. They all worked extremely hard and excellent together to give mum every possible chance of surviving right from the very start."
The family also wanted to thank SAS for the care given to dad, David, who passed away 10 years ago as a result of sepsis. Alison
Moggach, then working with the Grampian out of hours GP service as an Advanced Nurse Practitioner, was also involved in assisting David in 2013.
The family has also donated to their local Fire Station's' Defibrillator Fund, as a defib was also used on the night of Sandra's heart attack.
She added: "This night definitely highlighted the importance of having these available in an emergency like we faced that night and mum could start receiving the help she required."
Lewis, the first on scene and leading clinician during the incident, was on hand to meet the family including Sandra's sister Margaret, and accept the cheque on SAS's behalf. He said the community showed the family a lot of support and compassion.
He added: "The attempt to save Sandra's life was a very community supported emergency. There was use of the community defib, assistance from members of the public and off duty fire fighters and police also assisted.
"They are a lovely family who gives so much to their community and was given unconditional support that night, which was heartwarming to see. For the family to think about the ambulance service and what we do in such a difficult time means so much to us all.
"We don't do this job for extra money or donations, we do it because we are passionate about our job and endeavour to always try our best for every single patient. The amount they raised for both station and for the fire service is incredible and we can't thank them enough for the amazing donation."