Man reunited with SAS staff who saved his life after cardiac arrest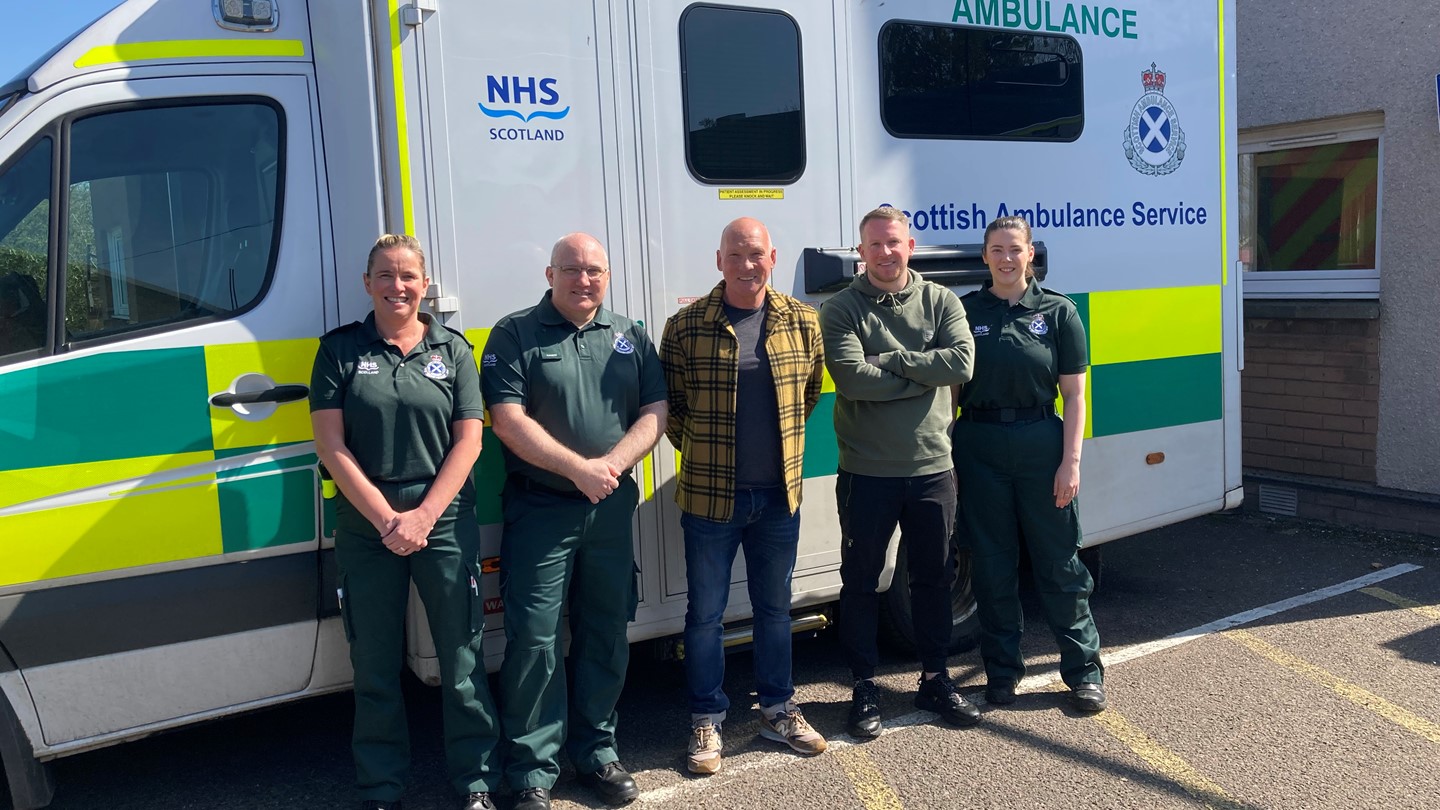 A man who had a cardiac arrest after a game of squash four years ago has been reunited with the crew who saved his life.
Mal Adams, 58, from Arbroath, was at Dundee University Sports Centre when he started to feel unwell after what his friend described as his "best ever game".
Within moments, he suffered a cardiac arrest. Staff members at the sports centre immediately performed CPR, while a 999 call was placed to the Scottish Ambulance Service (SAS), answered by Trainee
Technician Emma Gray, who was working as a call handler at the time at SAS's East Ambulance Control Centre (ACC). The two staff members used a nearby defibrillator, while Emma gave instructions over the phone. A Community First Responder also attended and provided assistance until the first ambulance crew arrived.
An ambulance crew was dispatched by Darren Morrison - now working as a technician at Bathgate - and he allocated two emergency resources; Paramedics Kerry Sweeney and Keith Dickinson from Crieff, having just cleared a job at Ninewells and arrived within four minutes, and Paramedic Michelle Bond from Monifieth. 
Mal spent the next three months in hospital, both in Ninewells and the Royal Victoria Hospital in Dundee, before he returned home to continue  his recovery.
After making good progress over the last few years, the dad of three reached out to SAS and on Tuesday (April 18) met Kerry, Keith, Darren and Emma at Dundee Ambulance Station and presented them each with a certificate of appreciation.
Mal, an assembly technician, said: "They absolutely saved my life and I will be forever grateful for that. I know they will say they were just doing their job, but the attention they pay to the patient is great – it was a real organised team effort."
Speaking of the incident in February 2019, Mal said it was a Tuesday night, and after work in Aberdeen he went through to Dundee to play squash.
He explained: "One of the guys in my team said it was the best game of squash I have ever played. I then marked someone else's game, and then went to get changed.
"I then said to the guy I was with, 'I'm not feeling very well' and I just collapsed."
Mal's friend went to get help, and the next thing he remembers was "waking up in Ninewells nine or 10 days later". His first words to his wife when waking up were "I'm starving".
After he came out of his induced coma, he was moved to a ward in Ninewells and then to a rehabilitation ward at Victoria Hospital. Here he received help with his speech and occupational therapy, before he returned home.
He added: "I had to learn the alphabet again and how to spell things. I couldn't even spell cat, but I have progressed from that. There's still difficult days, but I've come a huge way from where I was and I just accept now things have changed."
While Mal has since been able to thank the sports centre staff in person, he has never managed to thank the SAS staff. Earlier this year, he ran into Advanced Practitioner John Salmond, who reached out to the staff and arranged a reunion.
Mal said: "When I met the sports centre staff and they filled in some blanks with the story. One of them said, 'you will not believe this, the day before this happened, we had only just finished our training with the defib. It's so important to learn CPR."
Pictured from left to right are Kerry, Keith, Mal, Darren and Emma