Edinburgh cabbies sign up to carry naloxone as part of a SAS campaign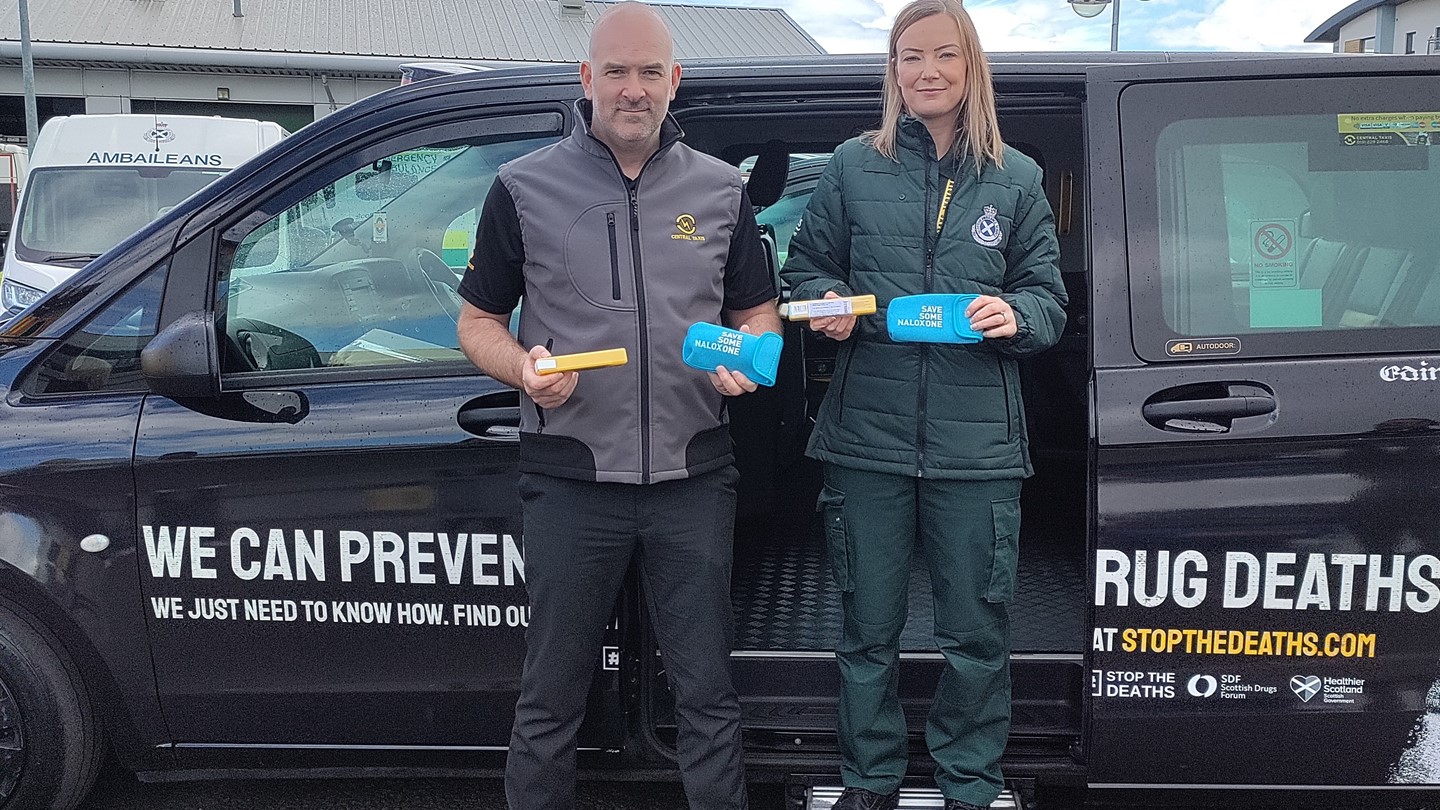 The Scottish Ambulance Service (SAS) has launched an initiative with Edinburgh's Central Taxis to equip its taxi drivers with the life-saving drug Naloxone, which temporarily reverses the effects of an opioid overdose.
Central Taxis is the largest taxi operator in Edinburgh, and their drivers have all been approached to carry out the necessary training and to carry naloxone in their cabs. Already, 36 drivers have signed up to complete the training.
Recognising the signs and symptoms of overdose and the administration of naloxone can mean the difference between life and death. Naloxone is vital in reversing the life threatening effects of opioid overdose and can buy precious time while waiting for an ambulance to arrive. Taxi drivers cover large areas in the region, and serve different communities on a daily basis, and so they are often likely to encounter an overdose before an ambulance is called.
This initiative is part of a wider campaign, Stop the Deaths, launched by the Scottish Government and the Scottish Drugs Forum, which seeks to reduce stigma and raise public awareness of how to recognise and intervene when someone has a drug overdose.
Inspired by the success of Glasgow Taxi's naloxone campaign, launched in February 2022, Julie McCartney, SAS's Drug Harm Reduction Lead for the East Region, worked with Central Taxis to encourage a similar campaign in the Lothians. As part of this initiative, SAS is also working with their partners Edinburgh Alcohol & Drug Partnership (EADP), Scottish Drugs Forum (SDF), and Scottish Families Affected by Alcohol & Drugs (SFAD).
SDF is providing free access to online naloxone training for drivers, and the naloxone kits are being provided by SFAD, who will use their click and deliver service to distribute them to the drivers who request them.
Julie McCartney, SAS's Drug Harm Reduction Lead for the East Region said:
"The Scottish Ambulance Service Drug Harm Reduction team are delighted to be working with Edinburgh Central Taxis and our local partners, to raise public awareness of the importance of being able to identify an overdose, administer naloxone and call 999 for an ambulance.
"Public knowledge and understanding is key as we seek to address the stigma surrounding drug use and encourage a compassionate approach to those who are vulnerable and need our help. This forms part of a wider catalogue of work by the Scottish Ambulance Service to maximise every opportunity to support those who use drugs to access treatment and support direct from the scene of an emergency."
Murray Fleming, Company Secretary, at Central Taxis said:
"This is a great campaign. Our drivers are out and about 24 hours a day and are very much the eyes and the ears of the city. We've had a terrific initial response from drivers registering to complete the training, carry Naloxone and play their part in the Stop The Deaths initiative. We already provide a back-up service for the NHS and Ambulance service in Edinburgh and see ourselves as very much the fourth emergency service."
Drugs Policy Minister Angela Constance said:
"I welcome this joint initiative by Scottish Ambulance Service and Edinburgh taxi drivers which will result in more lives being saved through the use of the emergency treatment naloxone.
"The response to the Stop The Deaths campaign by the Scottish Drugs Forum and Scottish Government earlier this year has been very encouraging and in addition to saving lives, we hope it has helped reduce the stigmatisation of people at risk of overdose and those with a problematic drug use more broadly.
"Naloxone is one of a wide range of measures being used to address the public health emergency of drugs deaths, but it plays an important role and I hope people will continue to visit the "Stop The Deaths" website to find out more."
David Williams, Joint Commissioning Officer from the Edinburgh Alcohol and Drugs Partnership, said:
"For someone experiencing a drug overdose, Naloxone can be life-saving. Its ability to temporarily reverse the effects of opioid drugs such as heroin, buprenorphine, and methadone gives a crucial window of time to call an ambulance and get someone the critical medical support needed.

"The Edinburgh Alcohol and Drugs Partnership is therefore delighted to be supporting this initiative with Edinburgh Central Taxis. The more people who carry Naloxone kits in Scotland - and have the right training and awareness to administer it – the more drug related deaths can be prevented. We're grateful to all those in Edinburgh's taxi community who go on to sign up to this initiative and carry these life-saving kits.
"We would encourage anyone who might be in a position to use a kit and save a life to go to https://www.sfad.org.uk/support-services/take-home-naloxone or drop in to one of the local services who provide them."