Official opening of co-location at Clarkston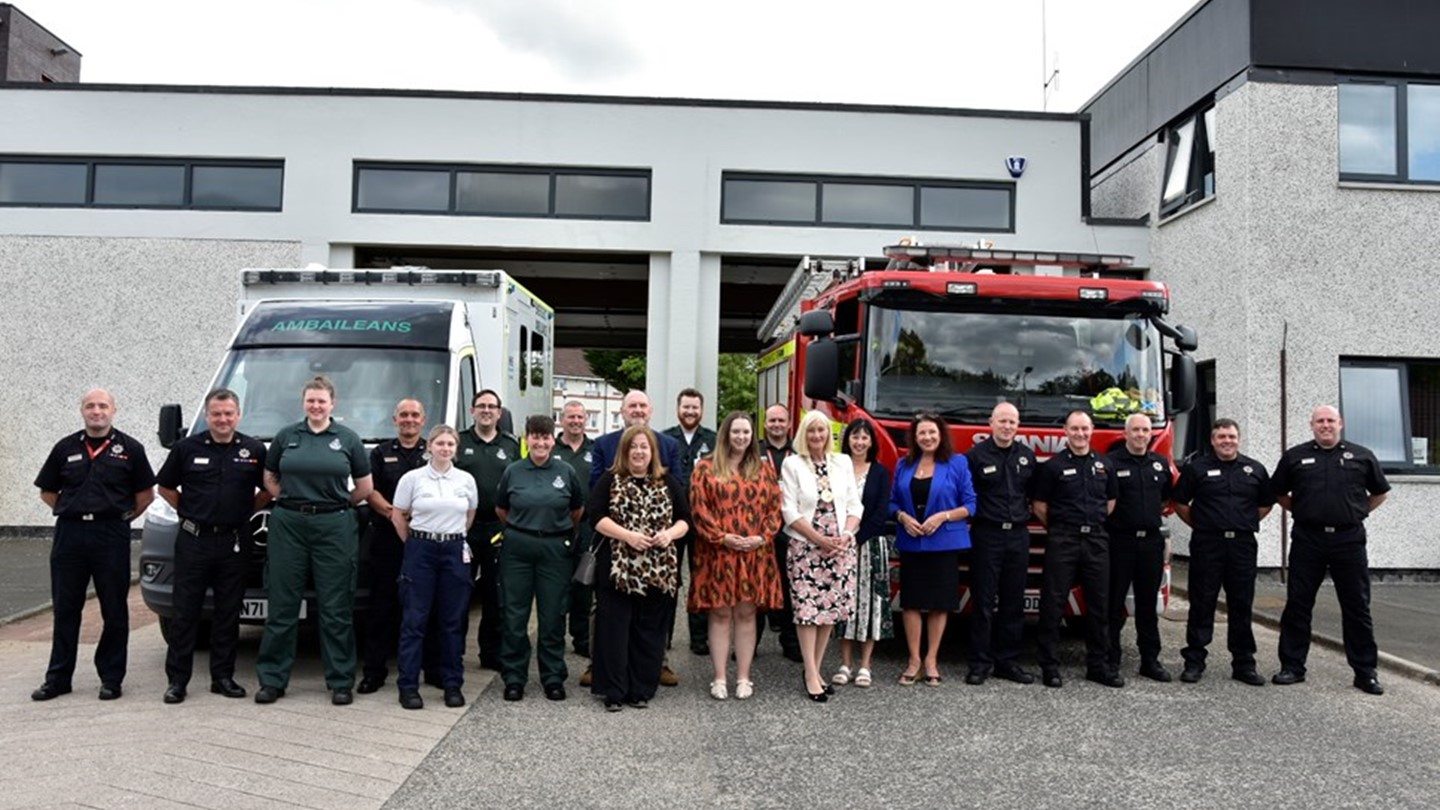 The official opening of a new co-located Scottish Ambulance Service (SAS) response and training facility at Scottish Fire and Rescue Service's Clarkston Community Fire Station was held on Thursday (21 July 2022).
The Scottish Ambulance Service has established six co locations in the West region to further enhance its provision in the area. The sites in the West that have already gone live are Clydesmill, Calton, Johnstone, Maryhill and Castlemilk. Co locations are also being established at Dreghorn and Ardrossan, which will go live later this year as part of the Service's Demand and Capacity Programme.
Clarkston officially opened in October last year with nine staff (five paramedics, four technicians) moving into the new station. However, due to Covid-19, an official opening had to be postponed. Clarkston will be operating as a training station, allowing SAS and SFRS colleagues the opportunities to train together in downtime to build on existing relationships, thus optimising interprofessional working at the scene of an incident.
The Demand and Capacity Programme, which is funded by the Scottish Government, has already seen four sites established in the Edinburgh region - Sighthill, Crewe Toll, Penicuik and McDonald Road – with plans for other sites across the country in the works.
Through the Programme, an additional 540 frontline staff were also recruited in the last financial year, a record number, with plans for the next financial year to build on this. This includes an additional 241 staff in the West region.
Wendy Quinn, Deputy Regional Director for the West of Scotland with the Scottish Ambulance Service, said: "The past 12 months have been the busiest in terms of recruitment for the Scottish Ambulance Service and we are delighted to have co-located to these new bases alongside our emergency services colleagues at the Scottish Fire and Rescue Service. We look forward to working with them and building on existing relationships.
"There is now an aspect of multi-agency working and training that can take place between both services and as well as being a great new base for our staff, this move ensures that we continue to provide the very best care to patients in these communities."
Deputy Assistant Chief Officer Stephen Wright is the SFRS Head of Service Delivery for the West of Scotland. He said: "We always welcome ways to work more closely with our key partners. We already enjoy a close working relationship with the Scottish Ambulance Service, but these moves will ensure our operational crews are even more aligned in their preparation and response to emergencies.
"Co-locations mean firefighters and ambulance service staff can regularly share knowledge and expertise while building rapport. It also presents an opportunity to better understand each other's challenges. Ultimately, co-locations are good for Scotland's emergency services, but also for communities right across the country."