Learning CPR to Save Lives for Restart a Heart Day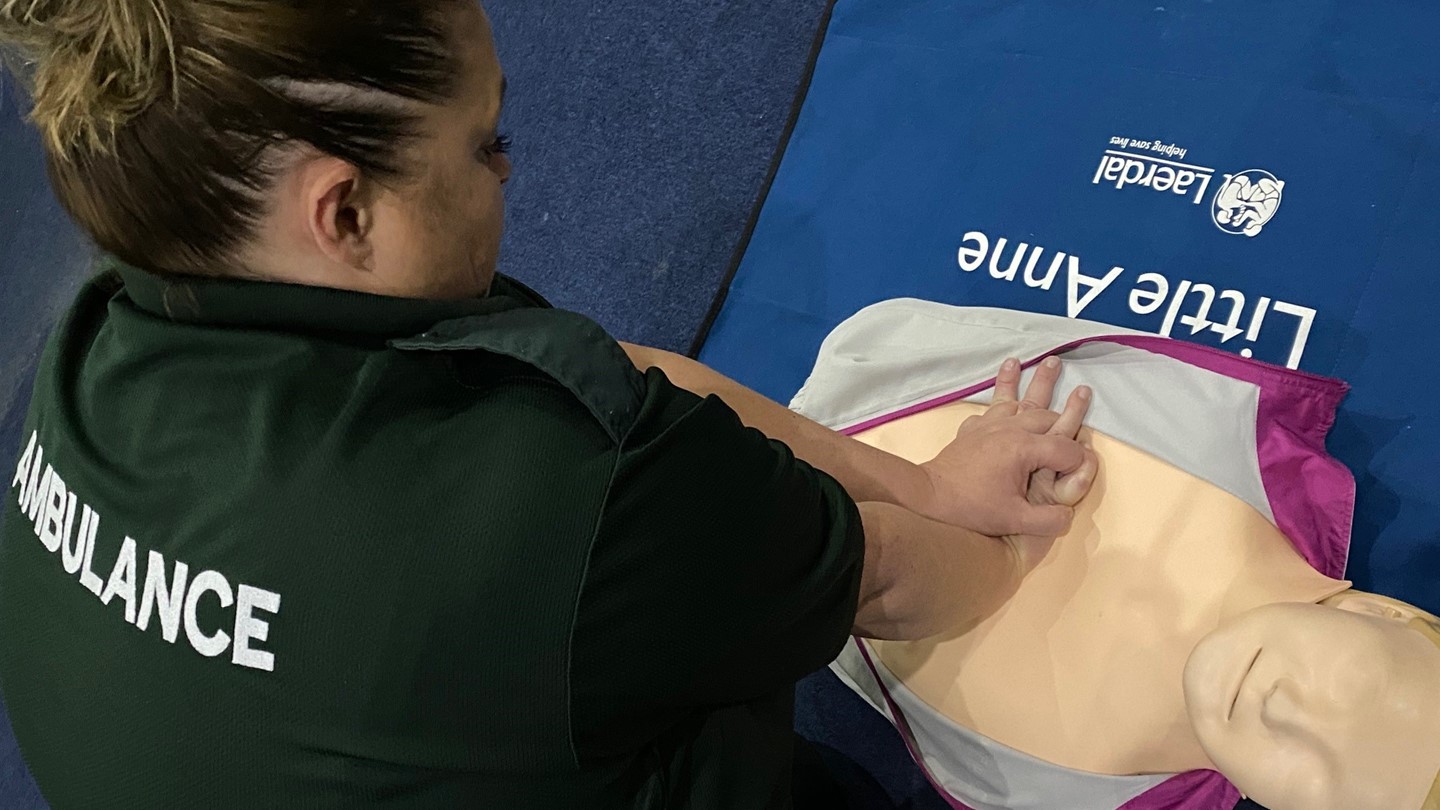 The Scottish Ambulance Service, along with healthcare organisations across the UK, are urging the public to get hands on and learn CPR for Restart a Heart Day on Saturday 16th October. This year there are many ways to learn this lifesaving skill online for free.
The annual event, which is in its eighth year, aims to help people learn to perform CPR, so they feel confident to act in an emergency. The campaign is led by Resuscitation Council UK, in partnership with Save a Life for Scotland, St John Ambulance, the British Heart Foundation, British Red Cross and all UK ambulance services.
The Save a Life for Scotland partnership has been working hard together since 2015 to raise awareness of CPR and improve survival rates across the country. This work paid off during 2020, as bystander CPR rates in Scotland did not drop despite the pandemic. The public continued to give lifesaving CPR when others needed them, over 66% of the time, which is more than 20% more often than before 2015. The goal is to increase bystander CPR to 85% by 2026.
CPR skills saved footballer Christian Eriksen's life in June, and could save the life of anyone in cardiac arrest – which could happen anywhere, to anyone, at any time.
Around third (35%) of adults in Scotland* have never undertaken any form of training to learn essential CPR skills, it is the goal of the Save a Life for Scotland partnership to reach everyone living in Scotland with CPR awareness skills.
For every minute that a person in cardiac arrest doesn't receive CPR and defibrillation, their chance of survival drops by up to 10% - so acting fast in an emergency is crucial. With most cardiac arrests happening at home, knowing CPR and being confident to act could save a loved one's life.
People can learn CPR by attending local events and by using online resources, which they can find at resus.org.uk/rsah. There are resources available in a range of languages, including Punjabi, Hindi, Arabic, Gujarati, Welsh, Polish, Chinese and Kurdish as well as in Makaton. Resources are also available for teachers to use with their pupils in lessons. People can also support the campaign and learn more about it on social media using the hashtag #RestartAHeart.
Pauline Howie, Chief Executive of the Scottish Ambulance Service, said:
"We know how important bystander action is in helping to save the life of someone in cardiac arrest. Studies show that using a defibrillator within three minutes of collapse, along with starting CPR, can greatly increase chances of survival. Cardiac arrest can affect anyone, of any age at any time or place. It's vital that we can encourage people to feel more comfortable in calling 999 and to deliver bystander CPR and defibrillation if witnessing an out-of-hospital cardiac arrest.
"Over the last five years, the Save a Life for Scotland (SALFS) partnership has equipped over 640,000 people with CPR skills, and the survival rate after an out of hospital cardiac arrest has doubled to one in ten people. We are so proud of this progress, but we are working towards even higher rates of survival and we want to encourage everyone that the power is in their hands to save lives."
Lisa MacInnes, Director of the Save a Life for Scotland campaign said:
"Scotland as ever, continues to step up to look out for each other. During the COVID-19 pandemic, bystander CPR rates in Scotland did not budge. Scotland kept caring and kept stepping up to give lifesaving CPR when our neighbours needed us to. This Restart a Heart day we want to celebrate this achievement! Our message today is please keep going. Your actions continue to give people the best chance of survival. Please use and share our videos with others to keep the message going that any CPR beats no CPR. Check out savealife.scot."
Professor Andrew Lockey, consultant in emergency medicine and co-lead for World Restart a Heart, Resuscitation Council UK said:
"Learning CPR has never been more important. When Christian Eriksen survived a sudden cardiac arrest at the Euros, he did so because those around him had the essential CPR skills that could save his life, and the confidence to act quickly when they realised what had happened to him. These are simple skills that everyone can do if they take the time to learn them.
"Learn or refresh your skills today by attending a training event, watching our short animation on how to do CPR in the pandemic, or playing our digital training game, Lifesaver."