Nearly 50% of 999 calls being managed out with Emergency Departments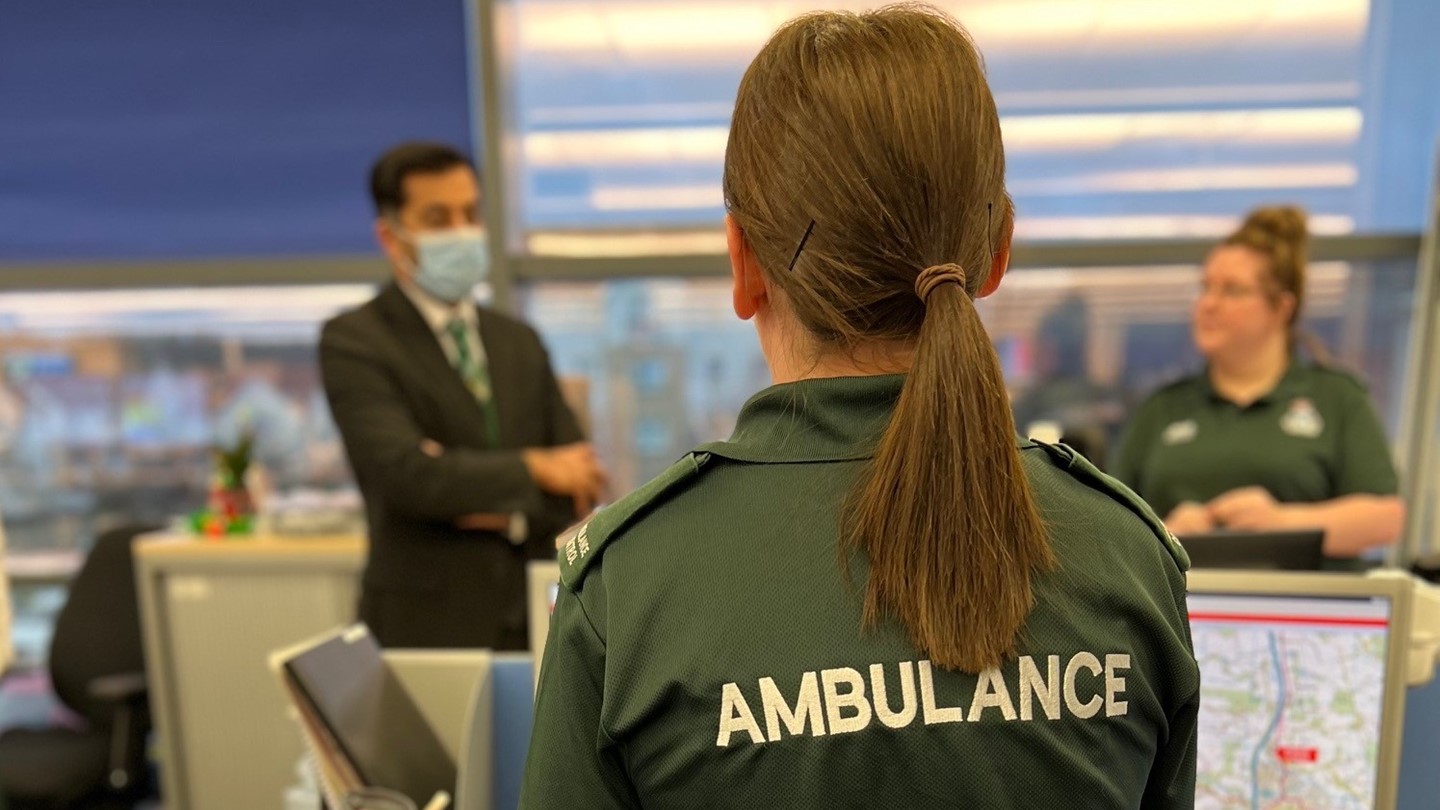 The Scottish Ambulance Service is managing nearly 50% of the 999 calls it receives without the need to take patients to Emergency Departments across Scotland.
Latest figures for the Scottish Ambulance Service (SAS) in October 2022 show that the proportion of patients being cared for out with Emergency Departments was 49.1%. 
This was made up of 24.9% of patients who were managed at the point of call and a further 24.2% whose care was managed by SAS clinicians on scene.
These results have been  achieved through a range of initiatives, including working closely with partners to increase the range of alternative clinical pathways in communities which support the Service to deliver care closer to home, accessing  Health Board Flow Navigation Centres, expanding our Mental Health pathway access, and utilising highly-trained staff in remote clinical consultation and assessment. The Service's central Pathway Navigation Hub also continues to increase the volume of calls it manages, connecting patients with services and communicating pathway information to SAS clinicians.
The figures are released as the Service launches its Integrated Clinical Hub, co-ordinated through the SAS Ambulance Control Centres in the west, north and east of Scotland. Health secretary Humza Yousaf visited the Service's East ACC base today in South Queensferry to meet SAS Chief Executive Pauline Howie and Chair Tom Steele, along with key staff involved in the Integrated Clinical Hub. The Health Secretary also thanked staff for their dedication over the past year.
Using a multi-disciplinary network of skilled clinical staff across Scotland, the Hub gives SAS the ability to provide a detailed consultation for patients whose initial 999 triage has ruled out time-critical illness. The hub will operate 24 hours a day, to ensure patients receive the best possible response to their need when they dial 999..
SAS Chief Executive Pauline Howie said: "The number of patients being cared for out with hospital Emergency Departments remains substantial and as we head into a challenging winter period, it's vital we work together with our health board and community colleagues to find ways of delivering the right care for individuals and easing pressure on Emergency Departments. We are focussed on continuing to develop our clinical care model to support more patients in communities where it is safe to do so and to ensure patients get the right care, at the right time.
"The clinical decision-making roles within our Integrated Clinical Hub all have a role to play in understanding patients' need at point of call, and that they receive the most appropriate care and support to ensure there is a positive impact across the whole system.
"If the patient's symptoms are not immediately life-threatening, they can then benefit from a clinical assessment with a senior experienced clinician to agree how help can be best provided. Frontline emergency clinicians can also be supported by more senior clinical staff via telephone and video, aiming to enable the patient to access the most appropriate pathway or care provision to address their need. This can help reduce pressure within Scotland's Emergency Departments.
"To help our staff, we also would like to remind people that if you need urgent care, but it's not life-threatening, you can call NHS 24 on 111, day or night, or your GP during opening hours."
Health Secretary Humza Yousaf said: ""We are facing a challenging winter ahead for the NHS and it's initiatives such as the integrated clinical hub that can help ensure patients receive appropriate care at home or in the community and alleviate pressures on our already busy A&E departments.
"There are a range of pathways of care and not every call to 999 needs an ambulance or a trip to A&E as demonstrated by stats out today.  Experienced clinical staff are on hand to triage calls and get patients the right care at the right place. Once again, I would like to thank Scottish Ambulance Service staff for their tremendous work and dedication."