One year and 60,000 jabs later for SAS's Vaccination buses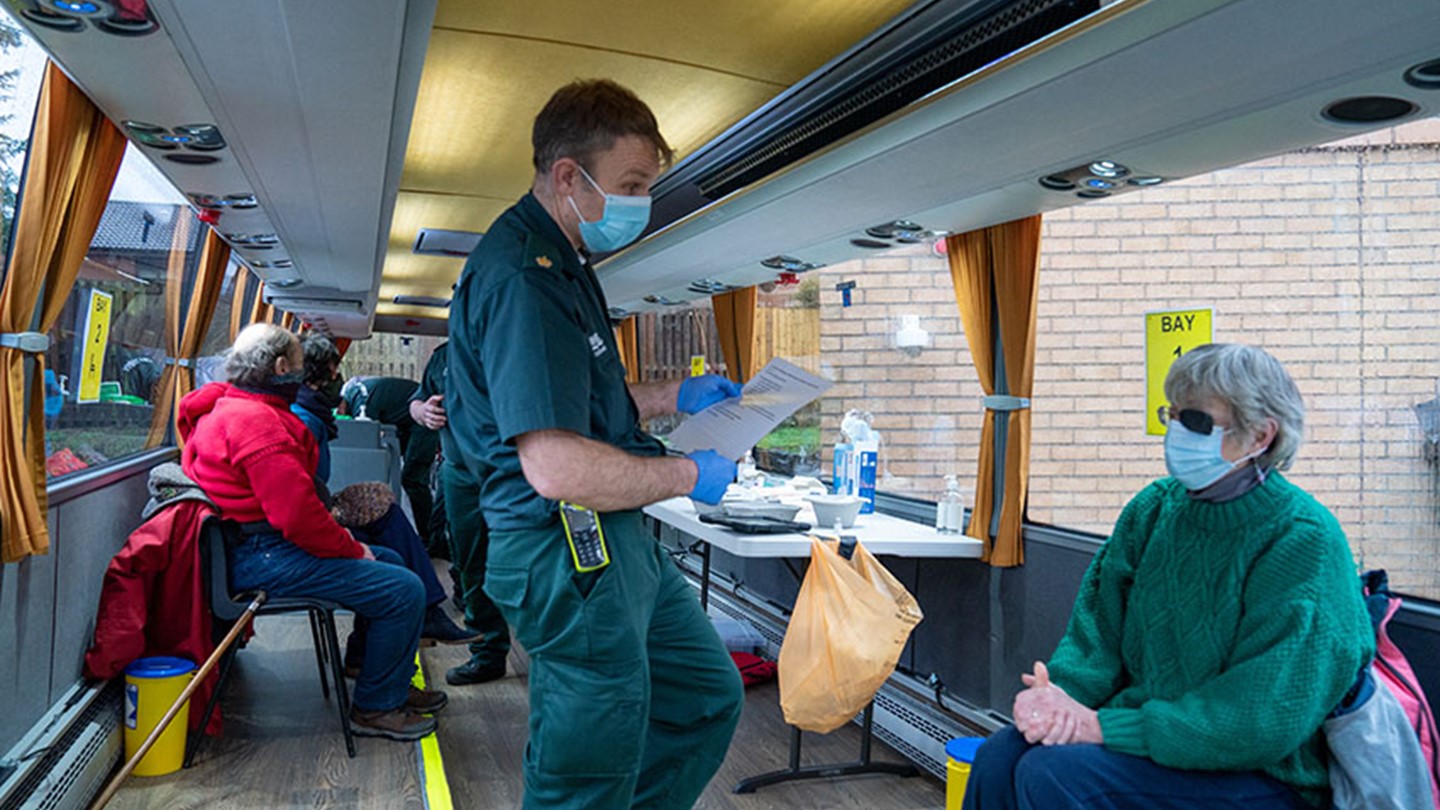 The Scottish Ambulance Service (SAS) is celebrating one year of operating its drop-in Vaccination Buses, which has seen almost 60,000 jags being delivered to people across Scotland.
The first vaccination bus was launched on 3rd February in Stanley, Perthshire, in conjunction with NHS Tayside, to help deliver Covid-19 vaccinations to those who live in remote and rural areas. Trained vaccination staff delivered jags out of a modified coach, which was initially supplied free of charge by Lochs and Glens Holidays of Gartocharn.
The vaccination bus has since supported other Health Boards and local authorities across the country in their vaccination efforts, including at popular hotspots like shopping centres, football stadiums such as Hampden Park, and outside community centres, churches and mosques.
In July 2021 the bus celebrated the delivery of 10,000 vaccines, which was a fantastic achievement as part of Scotland's national vaccination programme.
Since then, more than 48,000 jags, including first and second doses, and boosters, have been delivered from three buses to cover the whole of Scotland – with a bus dedicated to the east, west and north of the country. This has been assisted by the Scottish Government, having provided new funding in order to improve the accessibility of vaccines in some of Scotland's most remote places.
 Natalie Macdonald, Vaccination Programme Manager at the Scottish Ambulance Service, said:
"Over the past year our vaccination bus has made a huge contribution to Scotland's effort to fight the Covid-19 pandemic. The bus is a mobile vaccination clinic that can access remote and rural Scotland, providing a sheltered place where people can come and get vaccinated in a safe environment by trained healthcare professionals.
"With almost 60,000 jags having been delivered, our fantastic staff have been making a real difference in the ongoing fight against Covid-19. Our close working with Scottish Government, Health Boards and local authorities across Scotland has meant we can reach into communities via our mobile vaccination bus to ensure everyone has the chance to be vaccinated."