Parents of two young boys injured in car crash donate £5,000 to SAS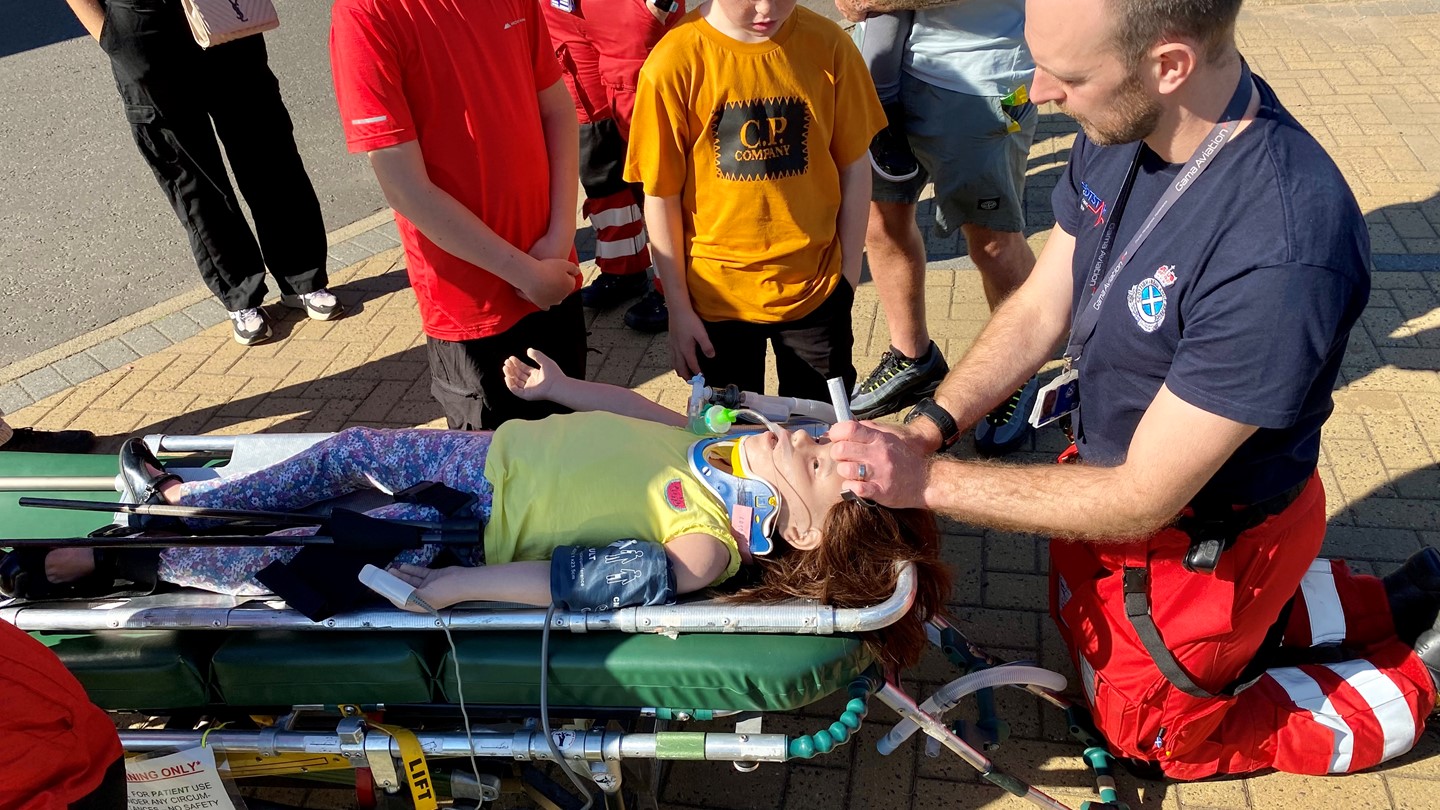 A family whose young boys were seriously injured in a road traffic accident have visited the Scottish Ambulance Service's Scottish Specialist Transfer and Retrieval (ScotSTAR) base in Glasgow to see a live demonstration of the new training mannequins their donation has helped fund.
Glasgow Children's Hospital Charity provided a further grant of £15,000 to fully fund the highly specialised mannequins, which help ScotSTAR's team prepare for the unique challenges of retrieving small children, which cannot be fully replicated in adult-sized mannequins.
The ScotSTAR service provides emergency medical retrieval services (EMRS), neonatal and paediatric transport services, and the air ambulance for the whole of Scotland.
In January 2021, the two Kelly boys – Carson (9) and Calvin (6) - were seriously injured when the car they were travelling in skidded on ice and flipped twice on a day out in Glenshee, Inverness-shire. Both boys suffered head injuries and needed to be airlifted to the Royal Hospital for Children in Glasgow.
Dr Michael Gillespie and Dr Kathryn Bennett, EMRS Consultants, tended to them at the scene and put them into medically induced comas to ensure they were safe to travel to hospital for treatment. Carson stayed in hospital for six weeks, whilst Calvin was in hospital for three weeks. They are both now back at school part-time.
Mum, Sheree, praised the care her two boys received from the crew who attended:
"The boys were kept side by side all throughout their treatment from the air ambulance to their hospital stay.
"Dr Gillespie dropped by to the hospital a few times during their treatment and was actually there the first time they both woke up. He has always kept in touch with the boys.
"The boys have met Michael and Kat a few times now and have thoroughly enjoyed visiting the ScotSTAR team at their base to see the training mannequins in use."
Inspired by the great care their boys received, Sheree and her husband Andy wanted to give something back and have raised £5,000 to date for ScotSTAR with future plans to raise even more.
Michael Dickson, Chief Executive, SAS, said:
"We are so pleased that Carson and Calvin have recovered so well after such a traumatic incident. Our ScotSTAR team are an essential part of the Scottish Ambulance Service, providing the very best care to patients, often in the most challenging of circumstances.
"Many thanks to the Kelly family and Glasgow Children's Hospital Charity for their kind donation and support of our ScotSTAR team."
Kirsten Watson, CEO, Glasgow Children's Hospital Charity, added: "It's incredible to see how this young family harnessed a traumatic situation into fundraising that could potentially save lives through effective training.
"Their exceptional fundraising supports an awe-inspiring team over at ScotSTAR, whom the charity is delighted to continue supporting."