Parkinson's UK teams up with Scottish Ambulance Service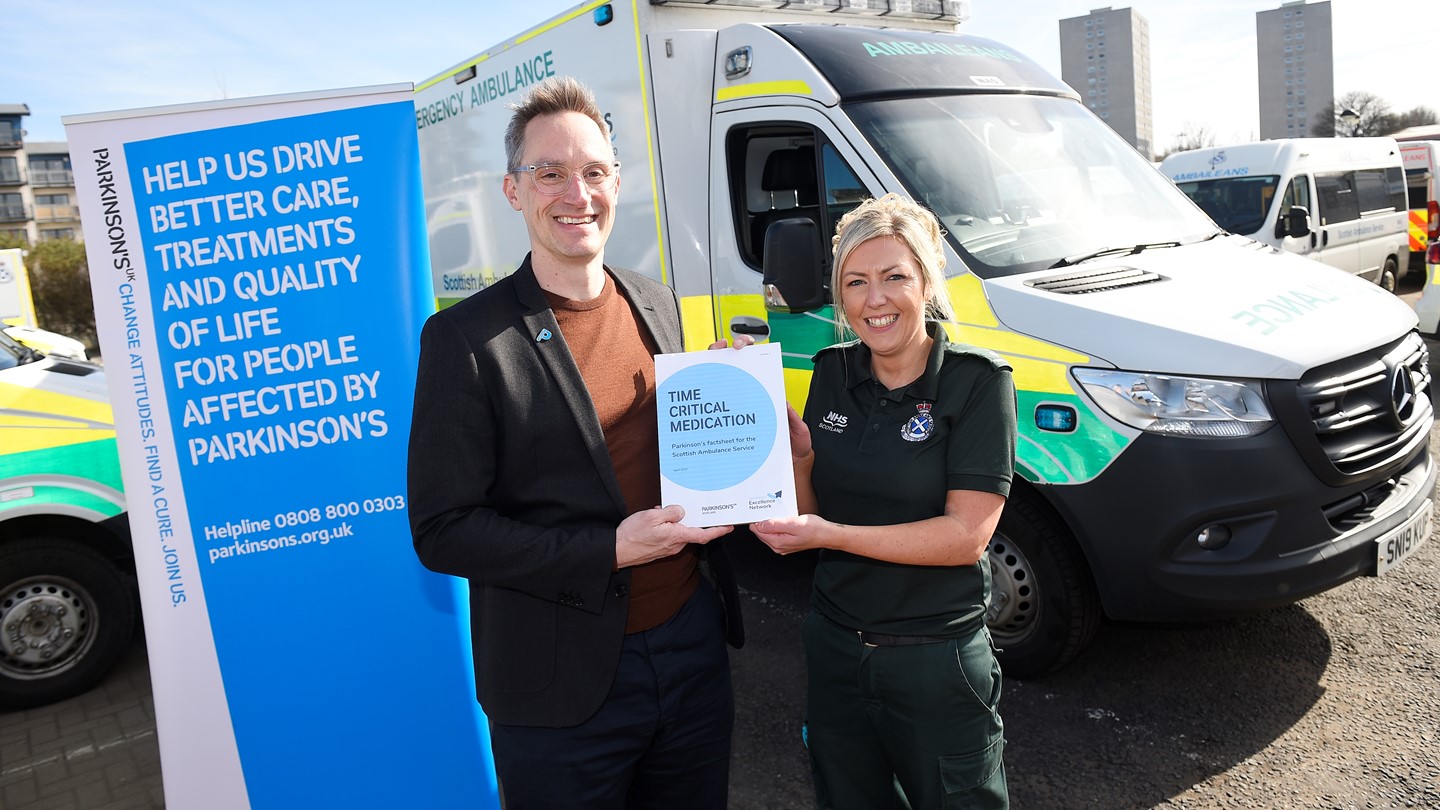 Parkinson's UK has teamed up with the Scottish Ambulance Service (SAS) as part of a drive to get medication on time to people with Parkinson's.

Last week, the charity presented SAS with a specially prepared guide, which sets out advice for crews to follow when transporting people with Parkinson's to hospital.

It is vital that people with Parkinson's take their medication within 30 minutes of the prescribed time. Even a slight delay can have serious implications. Further delays and missed medications can cause long lasting harm for someone living with Parkinson's.

In order to ensure medication is not forgotten or overlooked on a journey to hospital, either for a scheduled appointment or emergency treatment, Parkinson's UK produced a factsheet, which will now be made available to every ambulance team in Scotland. SAS will share the guide through its internal communications channels.

James Jopling, Scotland Director for Parkinson's UK, presented the factsheet to Laura Scott-Stewart, Paramedic Clinical Team Leader with the Scottish Ambulance Service, last week in Edinburgh.

Parkinson's is the fastest growing neurological condition in the world and affects an estimated 12,500 people in Scotland.

Time critical medication is one of four national priority programmes for the Parkinson's Excellence Network, which works across the UK to support changes in practice to bring about a better experience for people with Parkinson's.

Pauline Howie, Chief Executive of the Scottish Ambulance Service, said: "We're pleased to team up with Parkinsons UK to ensure all our scheduled care and emergency crews can help patients with Parkinsons to take their medications on time.
"With an estimated 12,500 people in Scotland with Parkinsons, this campaign is also a vital reminder to those with a diagnosis, and their families, that it is imperative to take medications at the right time. We'll be sharing the guidelines across the organisation, as well as highlighting the vital work of Parkinsons UK."