SAS makes the pledge for those with visible differences to be seen and heard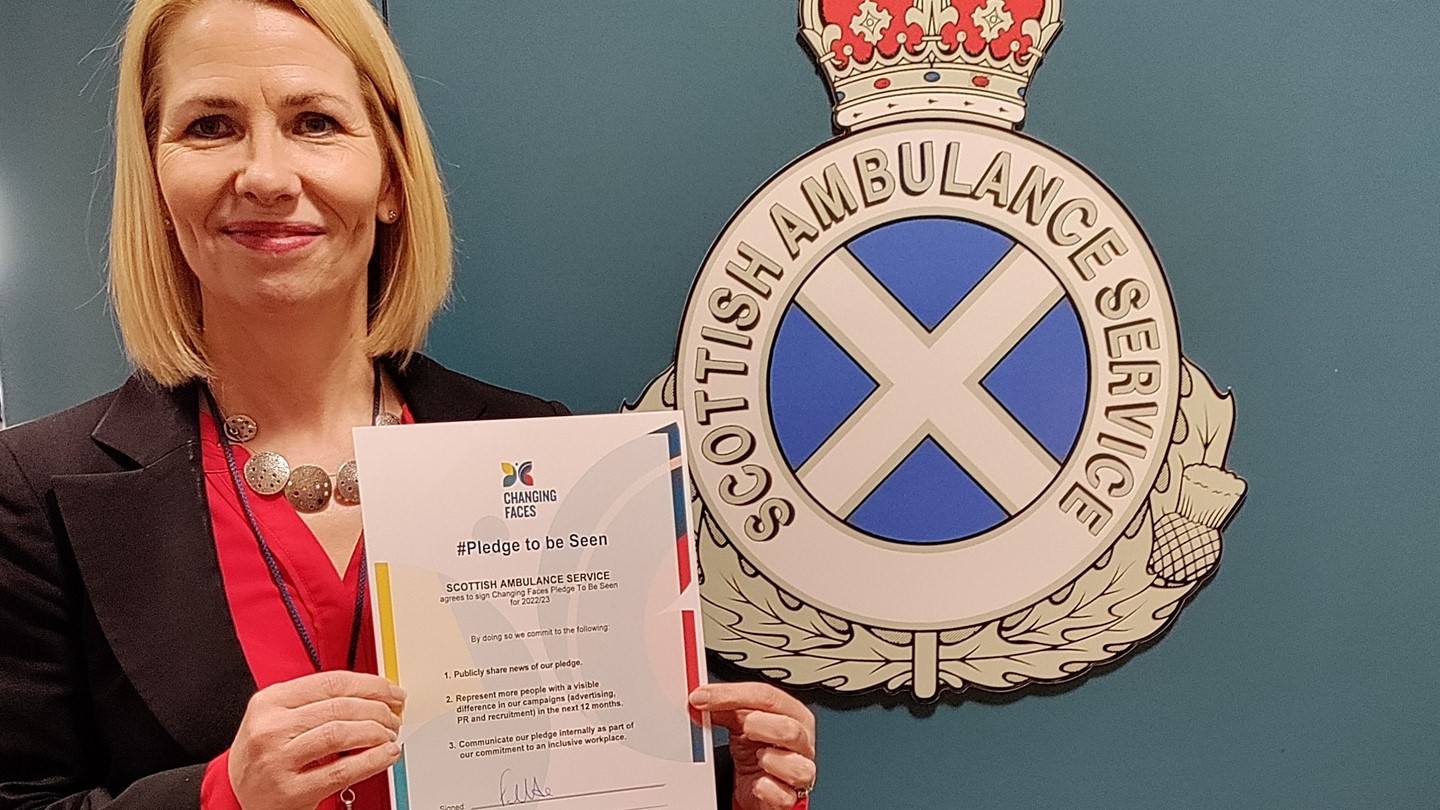 The Scottish Ambulance Service (SAS) has made a commitment to raise awareness and promote equality in the workplace for those who have visible differences and disfigurements.
One in five people in the UK identify as having a visible difference, or condition, that affects their appearance, such as a skin condition, burns and birth marks, or scars, for example, following cancer treatment. Yet more than half feel they are ignored by organisations or brands. SAS is proud to be the first health board in Scotland to have signed up to Changing Faces' #PledgeToBeSeen campaign, committing to represent more people with a visible difference in our advertising and recruitment plans.
Pledge To Be Seen was launched by Changing Faces to ensure that people with a visible difference are seen and heard in the workplace and across mainstream culture.
Chief Executive of the Scottish Ambulance Service Pauline Howie said: "We want SAS to be an employer that is inclusive and welcoming to everyone who applies to join our team. I am delighted to join colleagues from across other organisations to sign up to the Pledge to be Seen, so that we can celebrate difference and challenge stereotypes."
Organisations and businesses that sign the Pledge To Be Seen campaign commit to publicly sharing the news of their pledge; representing more people with a visible difference in their campaigns (including advertising, PR and recruitment) over the next 12 months; and communicating about their pledge internally as part of their commitment to being an inclusive workplace.
Angela Harris, Changing Faces, Head of Scotland, said: "We are delighted that the Scottish Ambulance Service has committed to our Pledge To Be Seen campaign. They are the first public body in Scotland to make this pledge, and together we can ensure that there is more positive representation of those with visible differences and disfigurements.
"We're going to be working with the Scottish Ambulance Service so their staff teams can better understand the challenges that people with a visible difference face in Scotland today. We're also supporting the other emergency services to join the ambulance service and sign our pledge."