Record recruitment continues: looking for Qualified Paramedics and Technicians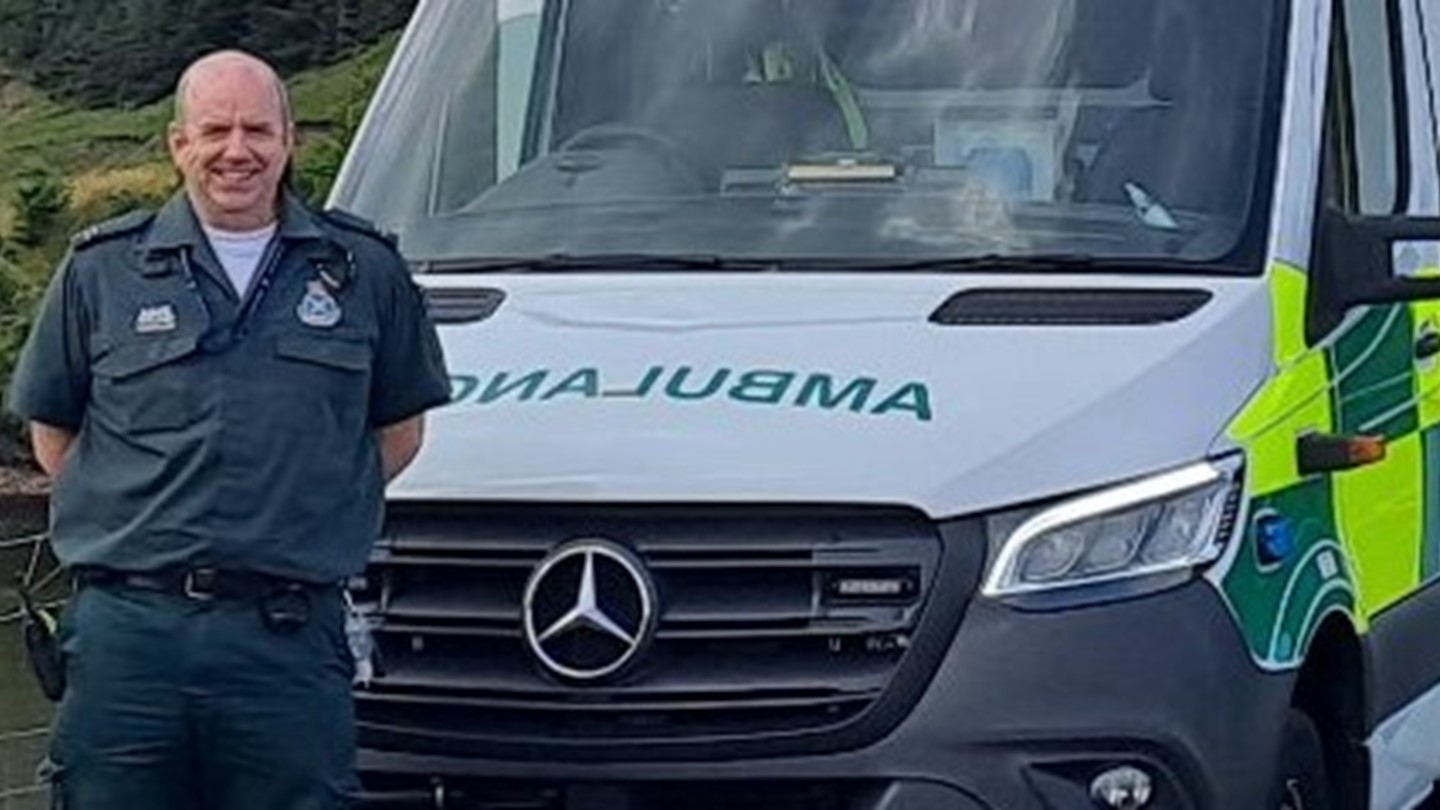 We are continuing to recruit at record levels - we are looking for Qualified Paramedics and Technicians to join the Scottish Ambulance Service.
Find out more at NHS Scotland | Jobs | Search here for your perfect career or NHS Scotland | Jobs | Search here for your perfect career
Here is a profile of one of our staff members, Graham Webber, who is based at Skye and talks about his role in the Service and what attracted him
How long have you been at the Scottish Ambulance Service and what is your position?

I joined the service in the March of 2021 as an Ambulance Care Assistant to earn and learn the role of an ACA, to work with patients and learn new life support skills before taking the next step to Technician. Whilst working in PTS I became qualified as a Care Assistant, passed my blue light driving course and then this also gives me the opportunity to assist A&E crews in between training.

What is your age and where are you from originally?

I'm a 46 year old born and proud Cornishman from the west of the Cornwall. My hometown was and still is Helston, the home of The Flora Dance.

Why did you decide to join SAS?

As a child I wanted to be one of two things,
A) Batman
B) An Ambulance man
Fortunately the role of Batman had been filled, so there was only one proper choice to follow. Although I had to go around the woods, retail parks, hospitality trail and five years at sea, until thirty years had passed, corona virus had arrived on the planet and triggered the kick up the bum I needed to jump ship, turn in my apron, sell my last packet of sweets, whatever you want to call it and became an Ambulance Care Assistant with patient transport (PTS). It was time for me to help and support where I could in a role I had longed to do, but had slipped down the list as I was busy living life, making a career, family, life choices etc. Throughout my life, me as a person and me as a family man have had many interactions with the ambulance service and in turn found my placement with PTS and then motivated me to apply for the Technician position.
"SAS covers such a wide variety of areas so there is something for everyone whether you want to work rurally, urban or a mix of both! The service is expanding its horizons for clinicians with the exciting opportunity to progress into primary care, critical care, air wing, management and much, much more."

What do you enjoy most about the job?

Being able to provide care, compassion and a first class service to a person or family in their moment of need whether it be emergency or non-emergency. Everyone we meet and interact with brings me a purpose of achievement, the previous incarnations had given me this, but this is next level.

What have been your highlights so far?

No specific cases can be named or placed, but some recent jobs where the treatment given pre-hospital has kept the patient stable and prevented deterioration that lets you go home with a sense of achievement and pride in my job. Learning from my colleagues has been a highlight as every day poses an opportunity to learn and develop further.
Just in general terms, without specifics, what are the most common types of incidents you attend?

Falls, chest pain, and mental health calls make up a significant portion of the workload but again every day is different, and you never truly know what's in store when you book on.

What would you say to anyone thinking of becoming a technician?

Go ahead and apply! Working for the ambulance service in any capacity is a rewarding career where you do genuinely make a difference to people's lives. You'll work alongside caring and compassionate colleagues who are keen to teach and mentor new starts just like I received and hope to do in the future for others.

What would you say to anyone thinking of moving to Scotland to either become a trainee tech, or who is a Qualified Paramedic already? (As in lifestyle, living etc.)

To live in one of the best places in the world (Remembering I'm Cornish) and if the vast land, sea, air, lochs and mountains don't already do it. That's what I did, taken to Fort William and Aonoch Mor (Nevis Range) over twenty years ago and still here and still loving it… even the occasional rain fall and kisses from nature or locally known in the highlands as midgies.