Need Ambulance Support to your appointment?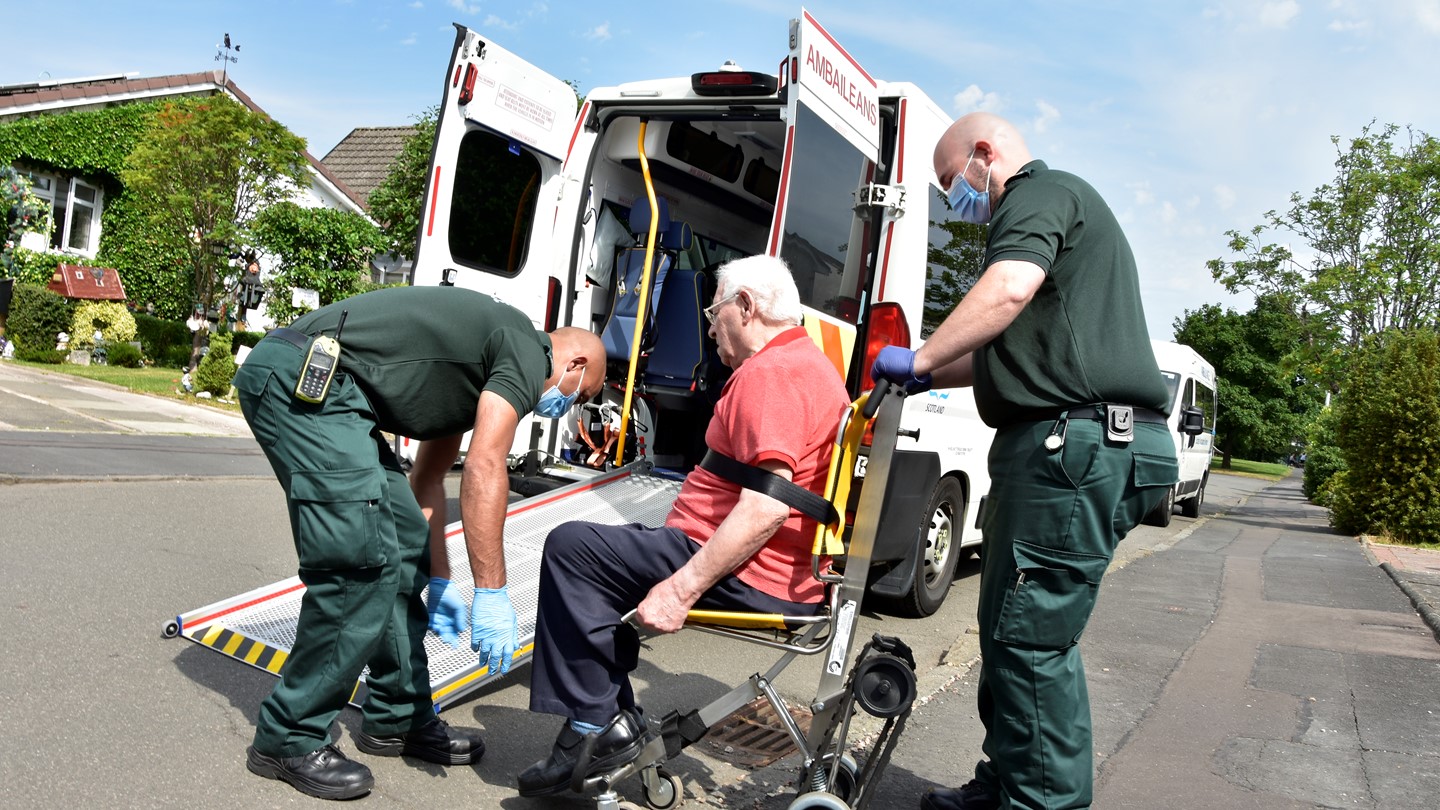 To find out if you're eligible you will need to call us on 0300 123 1236, our telephony messages will direct you to best person placed to respond to your call. Please listen to our telephony messages closely as you will be required to select the appropriate option.
What will we ask?
Once through to our Scheduled Care Call Handlers we will take you through our Patient Needs Assessment (PNA), a series of simple questions about your medical and mobility requirements. The questions have been designed to make sure we understand your requirements and so we can match our ambulance support with your medical needs. Please answer these as honestly and accurately as possible. We want to make sure you travel as safely and as comfortably as possible to and from your appointment. If you are not eligible for Scottish Ambulance Service support we will refer you back to the information on our website.
What do I need to request transport?
Please have your CHI number and details of your appointment to hand. If it is available it is advisable to have your appointment letter as all the details are contained within this.
Please note we only accept requests for appointments between 09:00 – 15:00 Monday – Friday.
What does it mean if I am asked about access on the call?
We will ask on the call about any access information. This is so we can ensure the right crew come to pick you up for your appointment. We need to know about ramps, steps, steep or gravel driveways. It would also be helpful to know if you have a key safe, whether to use the front or back door and whether you have any walking aids.
Our lines are open:
Monday - 08:15-18:00
Tuesday – Friday 08:00 – 18:00
Saturday – 08:00 – 13:00
Calls to 0300 123 1236 will normally be charged at a local rate but please check with your provider. (Deaf BSL users can use Contact Scotland's number)
Alternative ways to contact the service.
Request transport – contact form

It's really important you cancel your booking if you no longer need us so we can get to those who do.
Deaf, hard-of-hearing and speech-impaired people 
If you use British Sign Language you can now access the booking line through Contact Scotland BSL- Find out more on the Contact Scotland BSL website. 
You can also use the text talk number (18001 0300 123 1236)